STAND-ALONE NOVELS
THE QUIET WOMAN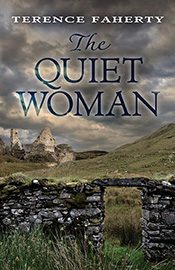 JACKET COPY:
Are you in the mood for an Irish ghost story? How about a lighthearted romance in a Technicolor setting? Or maybe a whodunit played out against the wild beauty of Conemarra? Or, better still, how about all three?
American romance novelist Danielle Furey dreamed of returning to Ireland to find her grandfather's birthplace—but not like this. Not in the company of her ne'er-do-well brother, who can always be counted on to let her down. Certainly not with her ex-husband—and his secret agenda—in tow. Not even with the charming Irish barman Danny hired as their driver—at least, not after she learned of the vengeful bookmaker on his trail.
Still, Danny has the situation well in hand until her party meets an Irish tour guide who claims to know the details of a terrible crime committed during the filming of The Quiet Man in 1951. Then Danny finds herself cast in the role of investigator, an investigator with an unusual client: the murder victim herself.
In her heart, Danny knows that following the thorny trail to its end will change her life forever. But follow it she does.
REVIEWS:
"This stand-alone from the author of two popular series has it all: great characters, a credible mystery, a touch of romance, a loving portrait of Ireland and even a ghost."
—Kirkus Reviews
"In a unique setting and with fresh characters—and plenty of lore about The Quiet Man—Faherty demonstrates his strong and thoughtful storytelling."
—Ellery Queen Mystery Magazine
"It's the plot, however, that will hold the reader's interest throughout. As more and more layers of the truth behind the young woman's death are peeled back, the puzzle deepens rather than clears until Danny finally pieces it all together with an ending that will leave the reader with goose bumps."
—Deadly Pleasures
"One of the more enjoyable, and humorous, portions of the book are the chapter headings. Each one is a bit of advice from the entirely fictional Camelot Guide to Romance Writing. They may be fictional in origin, but they work and are as true as any other guide. Faherty uses these headings to great advantage."
—Life is Story
ORDERING INFORMATION: amazon.com - barnesandnoble.com