WRITING NEWS
Books:
In December 2014, two of my Scott Elliott novels, COME BACK DEAD and RAISE THE DEVIL, were reissued by Mysterious Press as eBook editions. That means that all four Elliott novels are now available in Kindle and Nook formats. They can be ordered using the following links: amazon.com - barnesandnoble.com.
My first stand-alone mystery novel, THE QUIET WOMAN, was published by Five Star in June 2014. It's been called "a romantic mystery, set in Ireland, with ghost," which both describes the book and suggests—accurately—that's it's unlike any other novel I've published. The book had a particularly long gestation period, and in its final form, it owes a lot to the stand-alone short stories I began to publish in Alfred Hitchcock Mystery Magazine in 2007. (These are described on the Short Fiction page.)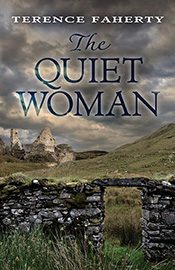 I'm very pleased with the job Five Star did on THE QUIET WOMAN, which may have more "shelf presence" than any of my other novels. That's due in part to the composite photo on its cover. I'm especially fond of the lower third of this illustration, as it shows a doorway from a ruined cottage in the Irish village (now a ghost town) where my grandfather was born. The photo was taken by my nephew Michael Faherty and his wife Kara.
Please see the new Stand-Alone Novels page of this web site for a more detailed description and reviews of THE QUIET WOMAN. It can be ordered in hardcover or eBook using the following links: amazon.com - barnesandnoble.com
Another recent book publication of mine is the latest Owen Keane novel, EASTWARD IN EDEN, The Mystery Company, 2013. The first new Keane novel since ORION RISING, EDEN is set in Kenya in 1997. Keane has journeyed to Africa to help a friend from his seminary days and finds himself in the middle of a power struggle in a remote valley. There's a murder for him to solve, but the greater mystery is whether he will be able to carry on following the disastrous events of ORION RISING.
EASTWARD IN EDEN can be ordered in hardcover or eBook using the following links: amazon.com - barnesandnoble.com - The Mystery Company
In addition to bringing out EDEN, The Mystery Company continued to reissue reprints of Keane's early adventures. Print-on-demand and eBook editions of DEADSTICK, LIVE TO REGRET, and THE LOST KEATS are now available.

These reissues can be ordered using the following links:
amazon.com - barnesandnoble.com - The Mystery Company (various eBook formats) - indiebound.com
Short Stories:
Alfred Hitchcock Mystery Magazine published my stand-alone story, "Ross Macdonald's Grave," in its October 2015 issue. The story is set on a tour boat crossing the Santa Barbara Channel, where the great private eye writer's ashes were scattered, and on one of the Channel Islands. Like many of Macdonald's books (and more than a few of mine), the story is about the past as a "living, inescapable force."
Ellery Queen Mystery Magazine published another of my Sherlock Holmes parodies, "The Man with the Twisted Lip," in its February 2015 edition, bringing the total published so far to four. The entries in this series purport to be from the recently unearthed notebooks of Dr. John Watson, and as such, they represent the true and unadulterated versions of Holmes' famous cases. Next up will be "The Blue Carbuncle," as noted below.
In November 2014, Indy Reads, a non-profit organization dedicated to supporting literacy programs in Central Indiana, produced an anthology of current Indiana writing called INDY WRITES BOOKS. My contribution, "A Little Knowledge," is a mystery story featuring my Hoosier private eye Harley Rensselaer. Other writers appearing in this book, a collection of fiction, nonfiction, and poetry, include Dan Wakefield, John Green, Susan Neville, Ben H. Winters, and Larry Sweazy.
Be on the lookout for another Holmes parody, "The Blue Carbuncle," which I hope will be in the February 2016 edition of Ellery Queen Mystery Magazine. That magazine has also purchased the latest story in my Star Republic series, "Infinite Uticas." Next up from Alfred Hitchcock Mystery Magazine is "Margo and the Milk Trap," featuring spy smashing radio sleuth Philip St. Pierre and his reluctant sidekick Margo Banning.
Still available is a short story collection featuring my Hollywood private eye Scott Elliott. THE HOLLYWOOD OP is being offered by Perfect Crime Books.