OWEN KEANE SERIES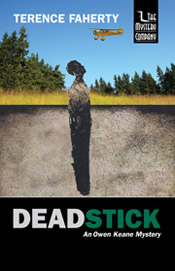 DEADSTICK
Nominated for the Edgar Award
JACKET COPY:
Owen Keane has sworn off mysteries, even though the former seminary student once believed that solving small, human enigmas would give him insight into larger, spiritual ones. He has hidden himself away in a routine job of researcher for a small New York law firm, but a request for information on a forty-year-old plane crash pulls Keane out of the library and disrupts his quiet life.
Probing the deaths of a millionaire one-way aviator and his socialite fiancée leads Keane from Manhattan to a mysterious Long Island estate and ultimately into the eerie isolation of the New Jersey Pine Barrens, where he learns that the safe dead past has a way of reaching forward to threaten the present.
REVIEWS:
"In a gothic journey to... New Jersey's Pine Barrens, Owen puts his research skills to their toughest test. An ultimate confrontation, worthy of the best whodunits, brings this gripping mystery to a strong conclusion."
—Publishers Weekly
"DEADSTICK is a first novel by a writer so talented that his good guys are as interesting as his bad ones."
—The Philadelphia Inquirer
"No guns, no gore, but plenty of intellectual guts."
—The New York Times Book Review
ORDERING INFORMATION: Mystery Mike's (specify signed copy, if desired) - amazon.com - barnesandnoble.com - The Mystery Company (various eBook formats) - indiebound.com
LIVE TO REGRET
JACKET COPY:
In his Edgar-nominated debut, DEADSTICK, Terence Faherty introduced Owen Keane, ex-seminarian turned investigator, a uniquely perceptive and thoughtful figure on the mystery scene.
Now Owen Keane returns, once again on the trail of human mysteries, hoping to find clues to the spiritual questions that haunt him. In this compelling new novel, Owen is struggling to recover from the sudden death of Mary Ohlman, the wife of his friend Harry—and, years ago, Owen's great love. But Owen must overcome his own grief to investigate Harry's strange behavior and extended retreat in a small New Jersey shore town. Unsure whether Harry is tormented by sorrow, alcohol, or guilt, Owen gets caught up, not only in his friend's troubles, but also in those of a doubtful priest and an enigmatic young woman, as well as the dark secrets of the town itself. Untangling the mysteries of death and memory, Owen begins to understand his own life and future.
REVIEWS:
"Moving study of men wrestling with the lies they tell themselves about women, and the lies women tell them. . . a heady read."
—Kirkus Reviews
"[Faherty] wields a fine brush in picturing his minor characters, too, peopling Spring Lake with a delectable mix of personalities."
—The Indianapolis Star
"Faherty manages to weave a tight plot and keeps the reader guessing. It's an intriguing book, full of nooks and crannies, twists and turns sure to excite and surprise the reader."
—The San Mateo Times
ORDERING INFORMATION: amazon.com - Mystery Mike's (specify signed copy, if desired)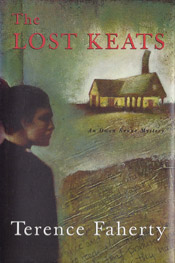 THE LOST KEATS
JACKET COPY:
In this "prequel" to the Edgar-nominated DEADSTICK, Owen Keane is a student in a southern Indiana seminary, where his constant questioning has brought him close to expulsion. When he is asked to look into the disappearance of Michael Crosley, another struggling seminarian, Keane see the investigation as a last desperate chance to save his own vocation.
Following an unlikely trail from boardinghouses to marijuana farms, Keane becomes convinced that a lost Keats sonnet lies at the heart of his search. With the help of Mary Fitzgerald, his former love, Keane tracks the student and the poem through a maze of murder, frustrated dreams, and broken families, only to find the man and the poem but realize that he's lost everything else. Terence Faherty, in his third mystery, confirms his status as one of the genre's most provocative writers with this haunting, literate, thoroughly original novel.
REVIEWS:
"In this assured, consistently surprising prequel to the Edgar-nominated DEADSTICK, divinity student Owen Keane struggles to find both his wandering sense of vocation and a missing classmate. A near faultless performance from start to finish."
—Publishers Weekly (starred review)
"Owen comes to learn a lot about life in the backwoods of Indiana, and the reader comes to learn a lot about Owen and the searching mind that makes him so interesting."
—The New York Times Book Review
"Intelligent, perceptive, and nicely evocative of the early 70's Midwest."
—The New York Daily News
ORDERING INFORMATION: amazon.com - Mystery Mike's (specify signed copy, if desired)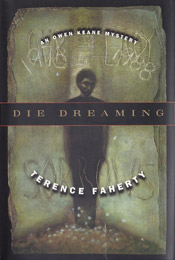 DIE DREAMING
JACKET COPY:
Since the publication of his much-praised debut, DEADSTICK, Terence Faherty has established himself as an uncommonly original and compelling writer. In DIE DREAMING, he continues to redefine the mystery, as seen through the eyes of his ever-curious hero, Owen Keane—the "metaphysical detective" whose constant wonderings and wanderings bring him up against some of life's larger questions.
At his ten-year high school reunion, Owen learns that the group of friends he'd most admired all share a dark secret. But not until the next reunion, ten years later, does he uncover the sad and ugly truth about his friends, who succumbed to the temptations and expectations of their Vietnam–era age, and have been paying the price ever since.
Told with the deadpan humor, keen insight, and subtle mystery that have become Terence Faherty's trademarks, DIE DREAMING is a novel of rare accomplishment.
REVIEWS:
"As usual, Owen's original voice and his intriguing take on detective work—the sleuth as clown as spiritual therapist—make his latest appearance memorably offbeat and well worth seeking out."
—Kirkus Reviews
"Owen's gift is that much that appears to escape him actually doesn't. He's a rare bird in crime fiction. . . . This tale['s]. . . rewards are rich and surprising."
—Publishers Weekly (starred review)
"His revelation almost costs Keane his life in what makes for a terrific ending to an engrossing plot."
—The Daily Freeman
ORDERING INFORMATION: amazon.com - Mystery Mike's (specify signed copy, if desired)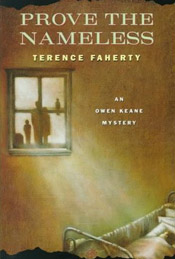 PROVE THE NAMELESS
JACKET COPY:
Owen Keane, dubbed one of the "freshest, most appealing figures in crime fiction" by the Philadelphia Inquirer, makes his fifth appearance in Terence Faherty's acclaimed series. While working for an Atlantic City newspaper, Keane is asked to investigate a twenty-year-old multiple homicide that claimed all but one member of a prominent local family. Keane's client is the sole survivor, a baby at the time of the killings and now a lost member of Generation X, as haunted by her unexplained escape as she is by the faceless threat that still hangs over her.
In a story that evokes Faherty's Edgar-nominated debut, DEADSTICK, Keane journeys into the past, uncovering a complex and dangerous trail of altered identities and secret guilt. His search leads Keane to a dual confrontation, as he must face both the murderer and his long-held fears.
At once thoughtful and startling, PROVE THE NAMELESS confirms Terence Faherty's status as one of the mystery genre's most unusual and provocative writers.
REVIEWS:
"[Faherty's] graceful writing is full of feeling and humor, and he uses his Atlantic City locale to good effect."
—The Washington Post Book World
"Faherty's best performance since DEADSTICK, the novel that earned him an Edgar nomination. Which means painstaking plotting, nuanced characterization, and a prose style it's a pleasure to spend time with."
—The Philadelphia Inquirer
"PROVE THE NAMELESS is one of Terence Faherty's best. Faherty has created a character who is original, likeable, and interesting, and whose first-person narration illuminates the story rather than constricts it."
—Mostly Murder
ORDERING INFORMATION: amazon.com - Mystery Mike's (specify signed copy, if desired)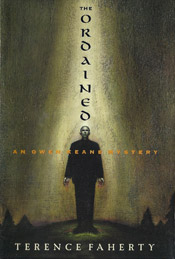 THE ORDAINED
JACKET COPY:
In THE LOST KEATS, Owen Keane was a young seminarian in rural Indiana whose encounter with murder, and his search for an unknown Keats sonnet, changed the path of his life forever. Now, twenty years later, Owen returns to Indiana for the parole hearing of the man he helped send to prison. Still haunted and restless, still in search of answers to the doubts that ended his dream of the priesthood, Keane is drawn into a mystery with a whimsical religious element.
The residents of the isolated town of Rapture, founded by an Adventist sect, the Ordained of God, are disappearing one by one. The Ordained believed that the world would end in 1844 and that they would be taken bodily into heaven. Now, one hundred and fifty years after their rapture failed to occur, something very similar is happening to their descendants.
Encouraged by a young doctor who has shut herself away in Rapture, and disarmed by the legend of the Ordained, Keane investigates and steps directly into the grasp of an implacable, murderous evil.
REVIEWS:
"The religious convictions of the characters in THE ORDAINED. . . go to the heart of this eloquently low-key mystery, which is about the challenge of maintaining a belief that defies reason. If the hero of this provocative series cannot make that leap, he pays his respects to those who can and goes on searching for his own answers. In his quiet, thoughtful way, Owen proves that he does, indeed, have a lot of guts."
—The New York Times Book Review
"Itinerant sleuth Owen Keane's life has taken some abrupt turns in five previous novels (THE LOST KEATS, DEADSTICK, etc.), which have chronicled a believable life odyssey and delivered a handful of satisfying mysteries. . . . He's an odd bird in an equally odd series, one that is consistently low-key, gently thoughtful, and enlightening."
—Publishers Weekly (starred review)
"[Faherty's] also produced a hypnotic narrator, intelligent, marked with a dry wit and wounded experience, who dodges all the snares associated with the first-person form by focusing foremost on the people he comes into contact with."
—The Drood Review
ORDERING INFORMATION: amazon.com - Mystery Mike's (specify signed copy, if desired)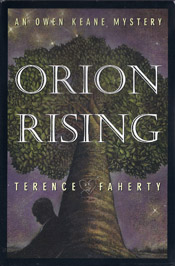 ORION RISING
JACKET COPY:
In the spring of 1969, a young nurse is raped and brutally beaten in a quiet suburb of Boston called Cleveland Circle. Twenty-six years later, a ne'er-do-well Boston accountant, James Courtney Murray, is murdered and a yellowed newspaper clipping describing the old rape is left on his body. The latest DNA-testing techniques confirm his killer's charge: Murray was the Cleveland Circle rapist.
Enter Owen Keane, failed seminarian and compulsive solver of mysteries. Keane was a college classmate of Murray's and a fellow suspect in the Cleveland Circle attack. He sets out to clear his friend and find his murderer, driven by his own guilty knowledge of the 1969 crime.
As he moves through the Boston of 1995, Keane slips back repeatedly to his lost days in college, both to reexamine the old mystery and to revisit a love affair that had as profound an effect on his life as any murder. He is caught in the middle when the past and present collide in the most harrowing climax of this critically acclaimed series.
REVIEWS:
"Successfully blending Keane's 1969 and 1995 investigations, ORION RISING is Faherty's most rewarding work, a treat for first-time readers and regulars alike."
—The Indianapolis Star
"The intermingling of past and present, the insertion of philosophical debates, and the presentation of the truth are handled masterfully by Faherty. . . . This book should draw attention from the list makers as one of the nominees for awards—it is that powerful."
—Mystery News
"Much of the action takes place not on the streets but in the mind of Owen Keane, and Keane's brain is a fine place to spend a few hours."
—The Rocky Mountain News
ORDERING INFORMATION: amazon.com - Mystery Mike's (specify signed copy, if desired)
THE CONFESSIONS OF OWEN KEANE
JACKET COPY:
THE CONFESSIONS OF OWEN KEANE is the first short story collection by the Edgar-nominated and Shamus-winning author Terence Faherty. It brings together six short stories and a novella from the casebook of failed seminarian turned investigator Owen Keane.
Called a "metaphysical detective" by the New York Times and "the ultimate amateur sleuth" by the Drood Review, Keane is a compulsive solver of mysteries. These mysteries can be as public as a gang murder and gun running or as private as the loss of faith. But whether the stakes involved are large or small, these tales all feature the hallmarks of Faherty's writing: meticulous plotting, offbeat twists, and what the Philadelphia Inquirer called "a prose style that's a pleasure to spend time with."
Included are two previously unpublished stories, "St. Jimmy," the very first Keane story, and "On Pilgrimage," which was written especially for this collection.
REVIEWS:
"The tales to be found in THE CONFESSIONS OF OWEN KEANE. . . provide a thoughtful contrast to the usual world of modern private investigators. Always likable, Owen Keane—whom one New York Times reviewer labeled a 'metaphysical detective'—is the antithesis of the tough-talking and punch-throwing P.I. If the sign of a successful short story collection is one that has the reader needing to know more and wanting to read the full-length novels, then Faherty has a definite winner here."
—January Magazine
ORDERING INFORMATION: amazon.com - barnesandnoble.com - Crippen & Landru - Mystery Mike's (specify signed copy, if desired)