AUTHOR BIO
Up to a certain point, I share an autobiography with my metaphysical detective, Owen Keane. We were both born in Trenton, New Jersey, both attended Catholic grammar and high schools, and both went to Boston College to study English literature, though I also attended Rider College, now Rider University. It was after college that our paths really diverged. Keane went off to fail in the seminary, and I became a technical writer who thought he should be a novelist. That feeling of having fallen away from a higher calling may have been why I began to write about an amateur detective who once wanted to be a priest.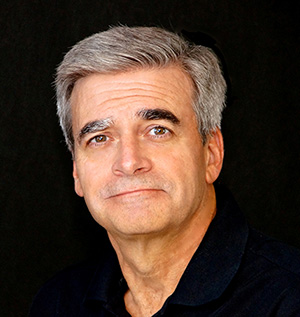 Photo Credit: Paul Chaffee
I found that technical writing job in Indianapolis, Indiana, where I also met my wife-to-be, Jan. We married in 1982, and I became a naturalized Hoosier. Around that time, I began attending writing workshops offered by the Writers Center of Indianapolis and publishing short stories in their annuals. Through the Writers Center, I met three touring mystery writers from England, Liza Cody, Michael Z. Lewin, and Peter Lovesey, which was my big break. Liza and Michael accepted a story of mine, "As My Wimsey Takes Me," for a collection they were editing. And Michael's advice and generosity led directly to the publication of my first book,
DEADSTICK
, which was nominated for the Edgar for Best First Novel.
After four Owen Keane books in as many years, I decided to start a second series. I hadn't noticed that times were tough for the male private-eye sub subgenre, so I entered it with the Scott Elliott series. It enabled me to make use of the many hours I'd spent watching old movies, since every Elliot novel contains a pastiche of a famous film. Other than being movie-struck, Elliott and I have little in common, except Indiana, where he was born. And I made him a veteran of my father's old unit from World War II, the 191st Field Artillery Battalion.
Finally, a word about how I became "one of the country's foremost authorities on the films of Basil Rathbone." I did it the same way Harold Hill became a music teacher in "The Music Man": by simply saying I was. A relative had complained about how short the bios on my book jackets were, so I added the Rathbone credential as an inside joke for my family, who remembered me age ten trying to convince everyone I met that Rathbone was the greatest actor who ever lived. The joke turned out to be on me when I was invited to lecture on Rathbone for various Sherlock Holmes groups, who knew Rathbone's work as the great detective but not the rest of his career. That very pleasant association recently culminated in my admission to the Baker Street Irregulars, the country's foremost Sherlockian society. Professor Hill would have approved.